Please note that QuickBooks has no way to undo an import. Please make sure to create a backup of your data before importing data from Time IQ into QuickBooks.
Please note that the instructions below are only for the QuickBooks desktop application. QuickBooks Online does not support importing files at this time.
Once QuickBooks is set up to be compatible with data from Time IQ, importing time entries into QuickBooks should only take seconds. Follow the guide here to export data. Make sure to select the option for exporting to QuickBooks format (IIF).
If you're having issues importing the IIF file, please be aware that QuickBooks has character limits for customers, jobs, and items. Before importing data into QuickBooks, please check the chart below to make sure your time entries will not have issues importing into QuickBooks.
| | |
| --- | --- |
| Type | Character Limit |
| Client/Customer | 41 |
| Project/Job | 31 |
| Service Category/Item | 31 |
| Service/Item | 31 |
1: Make A Backup
It's recommended that you create a backup of your QuickBooks company file before importing any data. Importing cannot be undone in QuickBooks.
2: Run The Importer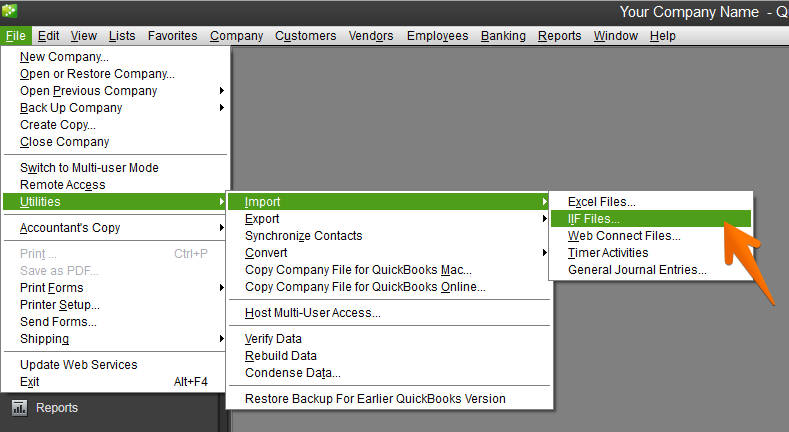 Inside of QuickBooks, go to File > Utilities > Import > IIF Files…
3: Select The IIF File
Select the IIF file that was exported from Time IQ.
4: Import Complete
The imported time entries should appear in QuickBooks now.
Was this article helpful?