In addition to basic localization settings, Time IQ offers the ability to track time in Duration (number of hours) or Start and End Time. You can also enable Services for additional time tracking metrics, and enable Time Locking to ensure past time entries can not be modified after billing periods.
Account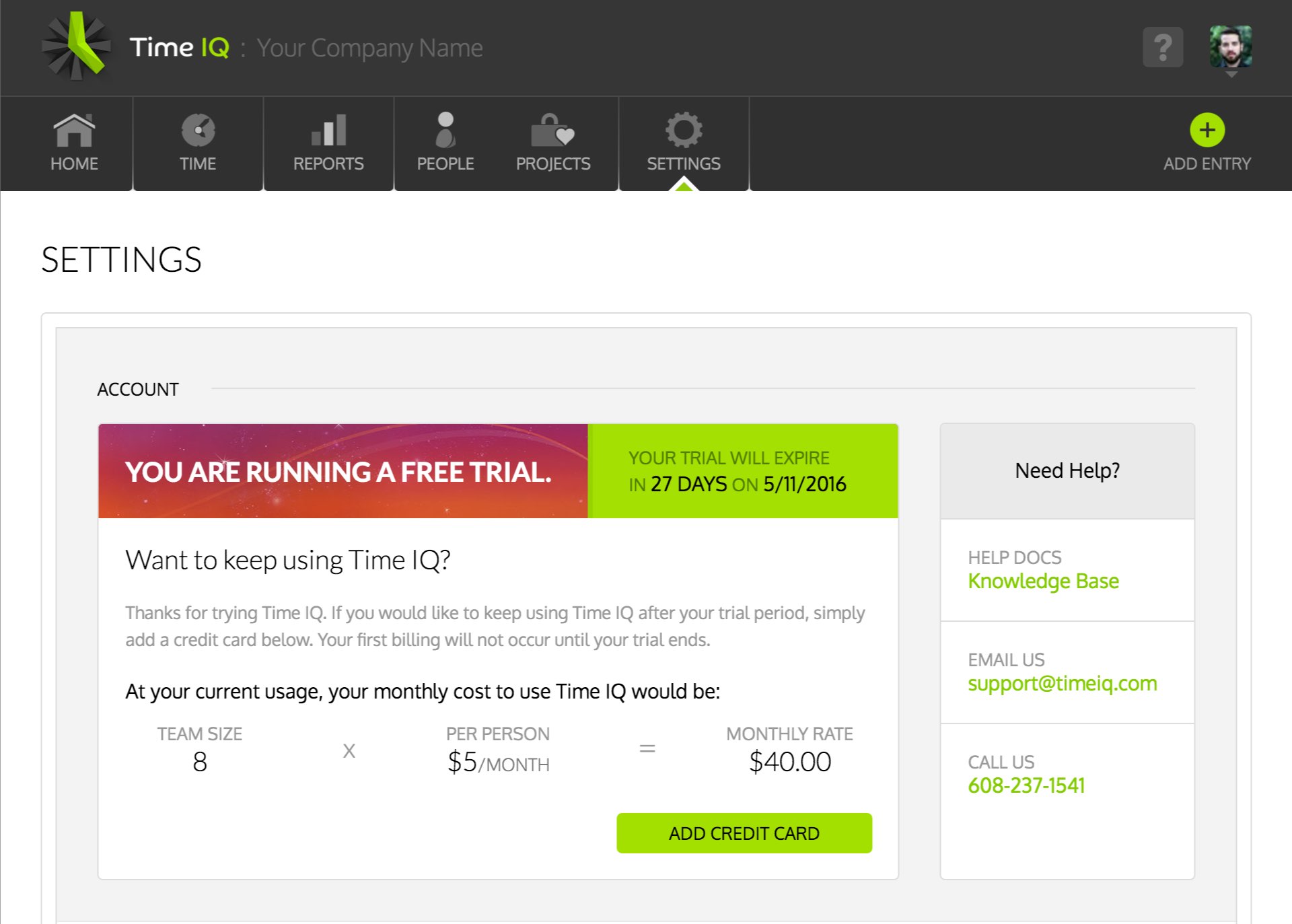 View the current status of your account, including when your trial expires. When you are ready to subscribe you can add your credit card info.
Once your subscription is active, you can find your invoice history on this page as well.
General

If you need to update the name of your company in the header, you can do it here.
Localization

Default Time Zone: This time zone will be used for your main account events and applied to new people by default. (it can be overrided on a per-person basis)
Clock: You can select a 12-hour or 24-hour clock.
Date Format: Select the date format you would prefer to see in the application interfaces.
First Day Of Week: Select the day of the week you would like each week in Time IQ to start on.
Currency & Units

Currency: Select the currency you would like to have displayed for expense reports. (feature coming mid-2016)
Currency Symbol Placement: Position the currency symbol based on local preferences.
Number Format: Select your preferred number formatting.
Distance Unit: Select the distance unit for mileage expenses (feature coming late this year).
Time Tracking

Default Tracking Style: Set your default preference for time logging, Duration (enter number of hours to log), or Start and End Time (enter the start time and end time for an activity).
Time Display: Select whether to view logged time as Hours and Minutes (1:00) or Decimal (1.0)
Require Notes: Enable if you would like to require that notes are entered with each time entry.
Allow Batch Entry: Enable if you want the ability to enter in time for multiple days at once.
Required Time

Enable if you would like to choose a number of hours for each day of the week required by your team when logging time.
Note: Wait to enable this feature until your team is fully added and you are ready to track time. Notifications will be generated for each day that is missed, and may only be reset by turning this feature off and back on again.
Services

Enable if you would like to track additional data about what your team is doing across your projects. Great for evaluating where you need to grow your team.
Time Locking

Enable time locking if you would like to lock past time entries and prevent them by being edited by Standard users. You can select any day in the past, and no time may be added or modified before that date. Great way to close the books at the end of each pay or billing period.
Was this article helpful?